Transaction Analysis Template
A major innovation in this text is that, unlike traditional introductory financial accounting textbooks, we do not focus on debits and credits. Because our objective is to help students understand how to read and interpret financial statements, we do not emphasize financial statement preparation, which requires knowledge of the system of debits and credits. While we describe debits and credits in an Appendix, the book does not require students to learn the system of debits and credits. Dropping the emphasis on debits and credits frees up time for instructors to focus on teaching students to understand how to interpret and analyze financial reports.
In place of debits and credits, we use a "Transaction Analysis Template" to illustrate how transactions and events affect the financial statements. The Transaction Analysis Template is a "shorthand" way to communicate how transactions and events affect financial statements.
Appendix C

For faculty who want students to be conversant in the mechanics of accounting, debits and credits are discussed in Appendix C, The Language of Accountants: Debits and Credits.
Real Companies' Financial Statements
A feature that really brings accounting alive for students is seeing the accounting practices and reports of companies with which they are familiar. To this end, each chapter incorporates examples using real companies that students know. For example, we discuss accounting issues related to Google, Apple, Microsoft, Amazon, Target, Krispy Kreme, MGM Resorts, and many others.
Real Data and Examples
Each chapter includes an assignment called Extending Your Knowledge that requires students to use year-end financial statements of Columbia Sportswear and Under Armour.
Accounting in Practice
Boxed inserts are included throughout the text to help bridge the gap between the classroom and what students encounter in the real world. Accounting In Practice illustrations document situations a reader is likely to encounter and present the choices that companies make in reporting financial results.
Forensic Accounting
These boxed inserts help students understand how financial accounting knowledge can be used to aid in the prevention and detection of accounting errors and fraud.
Corporate Social Responsibility
Increasingly, companies have found that "doing good" leads to a more successful, profitable enterprise. These boxed inserts help students understand how corporate social responsibility is being embraced by forward-thinking enterprises as part of their long-term business models.
Organized for Student Success
To help students succeed in the course, we include many features that provide direction to students and require them to recall and apply the financial accounting techniques and concepts described in each chapter.
Putting Each Chapter in Context
Often students lose sight of the big picture. The Past/Present/Future feature provides students with an overview of where the chapter fits within the whole course.
Mapping Each Chapter
Each chapter begins with a Road Map highlighting the chapter's learning objectives and corresponding eLecture videos, Guided Example videos, and assignments. The Chapter Organization provides an overview that visually depicts the layout of the chapter.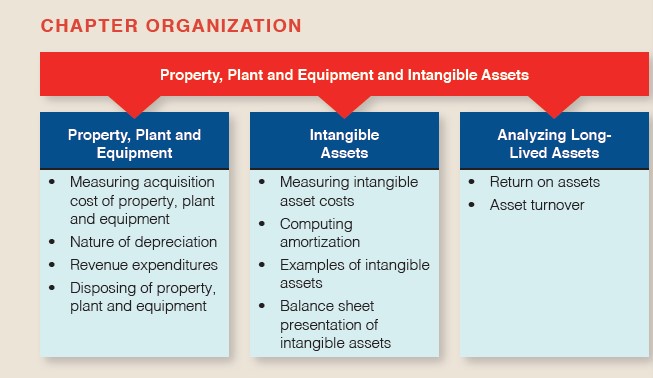 Review
Review boxes are integrated throughout each chapter as a means of reinforcing the material just presented. Solutions are provided at the end of the chapter so students can check their work. Each Review has a corresponding Guided Example video created by the author, walking through how to solve the problem for students.
Takeaways
These in-chapter summaries ensure that students grasp key concepts before proceeding to the next topic.
Ethics
In today's post-Sarbanes-Oxley world, ethical decision-making has never been more pertinent to business and students studying accounting. We discuss ethics where appropriate in the text, and we have included at least one assignment in each chapter that raises an ethical issue. Assignments involving ethics are identified by the icon in the margin.
International Financial Reporting Standards (IFRS)
IFRS Alerts
Most public companies outside of the U.S. use International Financial Reporting Standards in preparing their financial reports, including many companies that list on U.S. stock exchanges. Thus, it is important to provide students with a basic understanding of the similarities and differences in the current reporting requirements and methods under U.S. GAAP and IFRS. Consequently, we incorporate discussions that examine these similarities and differences where appropriate throughout the book in IFRS Alert! boxes. 
Thinking Globally
In addition to IFRS Alert! boxes, these Thinking Globally inserts emphasize the similarities and differences between the United States and other countries that are not necessarily related to reporting standards. 
myBusinessCourse: A web-based learning and assessment program intended to complement your textbook and classroom instruction. This easy-to-use course management system grades homework automatically and provides students with eLecture and Guided Example videos to assist them in mastering the material.  In addition, detailed diagnostic tools assess class and individual performance. myBusinessCourse is ideal for online courses or traditional face-to-face courses for which you want to offer students more resources to succeed. MBC integrates with Canvas, BlackBoard, D2L, Sakai, and other LMS platforms.
Solutions Manual: Created by the author, the Solutions Manual contains complete solutions to all the assignment material in the text.
Test Bank/Computerized Test Bank: The test bank includes multiple-choice items, matching questions, short-essay questions, and problems.  The computerized version of the test bank enables an instructor to add and edit questions; create up to 99 versions of each test; attach graphic files to questions; import and export AsCii files; and select questions based on type or learning objective.  It provides password protection for saved tests and question databases and is able to run on a network.
PowerPoint: Created by the author, the PowerPoint slides outline key elements of each chapter.